Vlogging Course for Beginners
Vlogging Course for Beginners
0( 0 REVIEWS )
30 STUDENTS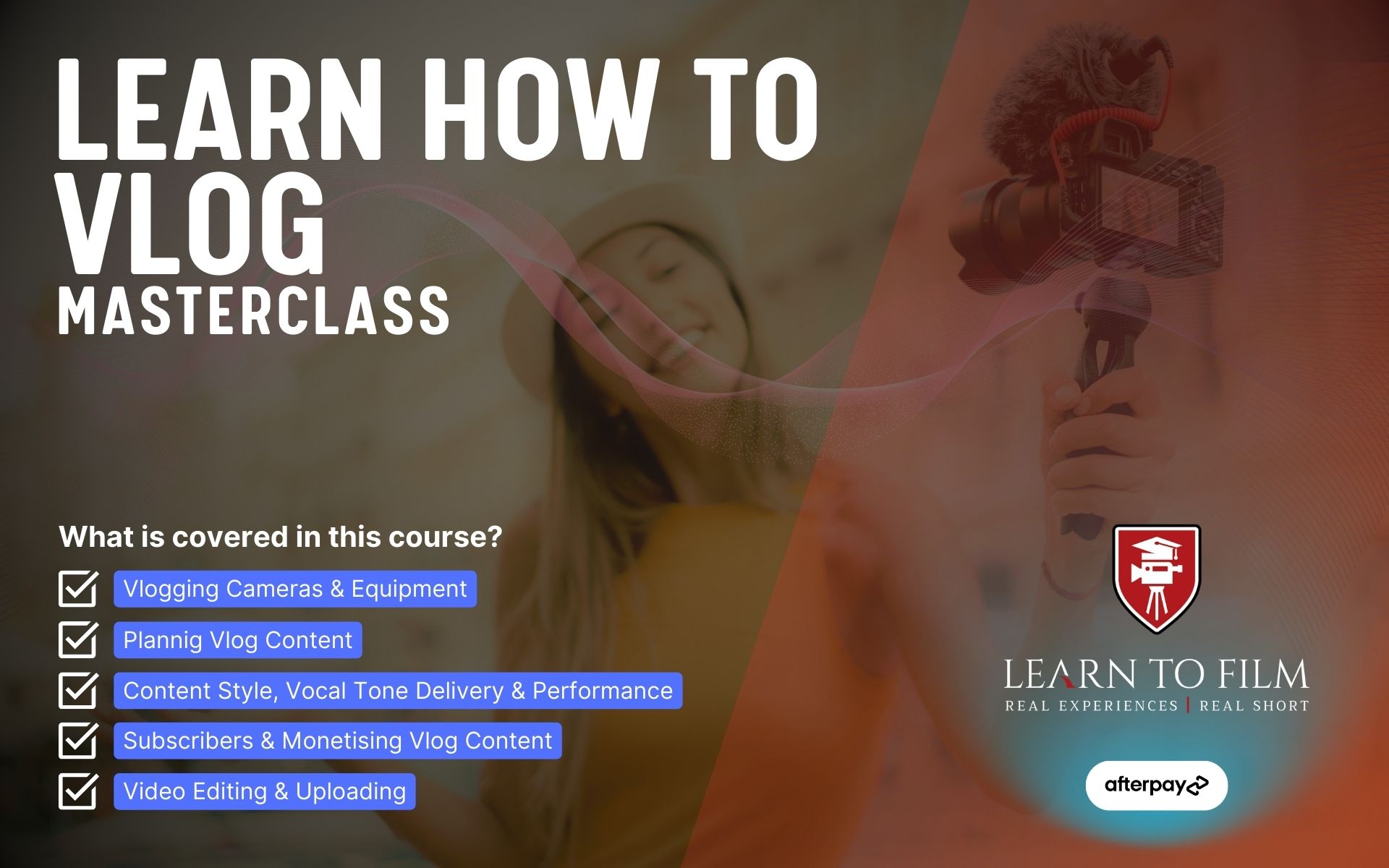 Learn what camera you'll need, all about performance, lighting and take a behind the scenes look into editing a distinctive vlog. A very popular form of video content creation in the modern era, our course will teach you how to make your very own Vlogs that resonate with your audience.
What you'll learn
How & What content to create
What type of cameras to use and why
Vocal tone delivery and performance
Learn how to systemise your content creation
Understand how social platform algorithms work
How to monetise your content for mass reach
Course Bonuses
12 Months access to our support forums
20% off on all hires from our camera rental partners
We'll review and comment/support your next 5 videos you create after your course
Vlogging Camera Kit List – Everything you'll need to get started
In this course you will learn about vlog types and how to create them. Learn about performance, lighting and take a behind the scenes look into editing a distinctive vlog.
By dissecting videos from some of the most successful YouTubers today, you will gain a deeper understanding of how to keep your audience engaged.
Furthermore we will delve into the depths of the business of vlogging where we will explore the risks and rewards of various monetisation models, how money works through Youtube, alternative funding platforms and advertising.
Make vlogs from start to finish. Brand yourself. Monetise your work.
Remember: you can take up any one of our courses in every state across Australia. If a course near you isn't available, please fill in the "Interested in this course" form on this page and we will get in contact with you to ensure we can provide something suitable.
What to expect
Start with a welcome from Learn To Film, where we can get to know the teacher and the students.
Get to better know vlogging as a whole by reviewing various vlog types.
With a rough understanding of which vlogs are available to create, we will choose a vlog to create for our final video.
We need to know what equipment we'll need by exploring various setups on multiple budgets.
Next we will explore software for recording and editing your vlog.
By dissecting videos from the most successful youtubers, we will gain pointers to help us with our vlog.
After lunch, we will delve into the money side of vlogging, by discussing various monetisation options.
Now the focus is on you, with advice on branding yourself, creating a successful channel, and practices to ensure that you are front-and-centre on search engines.
It's time to start our vlog! We will gather the asset packs for the vlog we chose.
We will go over some performance notes before we record our vlog.
It's post production time and we will now edit our vlog with the help of our downloadable assets.
When it's time to render, we will learn exactly how to do it, and then how to upload it.
By learning about how Search Engine Optimisation works, we will find out what words we can use to be seen online, and the best practices to ensure that your video is wide reaching.
After we have uploaded our final vlog, students are encouraged to enjoy celebratory drinks and canapes. All graduates will receive their certificates.
Find a course near you:
Film Courses Sydney | Film Courses Brisbane | Film Courses Melbourne | Film Courses Perth | Film Courses Adelaide |
TAKE THIS COURSE

25 SEATS LEFT
Course Curriculum
Details

00:00

What is Vlogging? – MOD0037 Details

00:25:00

What is Vlogging? – MOD0037 quiz

00:05:00

Vlogging: Equipment – MOD0038 Details

00:30:00

Vlogging: Equipment – MOD0038 quiz

00:05:00

Achieving Your Vlog style: A Dissection – MOD0039 Details

00:45:00

Vlog Performance & Setup – MOD0036 Details

01:00:00

Vlog Performance & Setup – MOD0036 quiz

00:05:00

Details

00:00

Vlogs: Sign-Offs, Patreon and gaining Youtube Subscribers – MOD0040 Details

00:45:00

Details

00:00

Create a Vlog – MOD0079 Details

02:00:00

Export Settings for Various Social Media Platforms – MOD0042 Details

00:25:00

Details

00:00