Video Editing Basics
0( 0 REVIEWS )
30 STUDENTS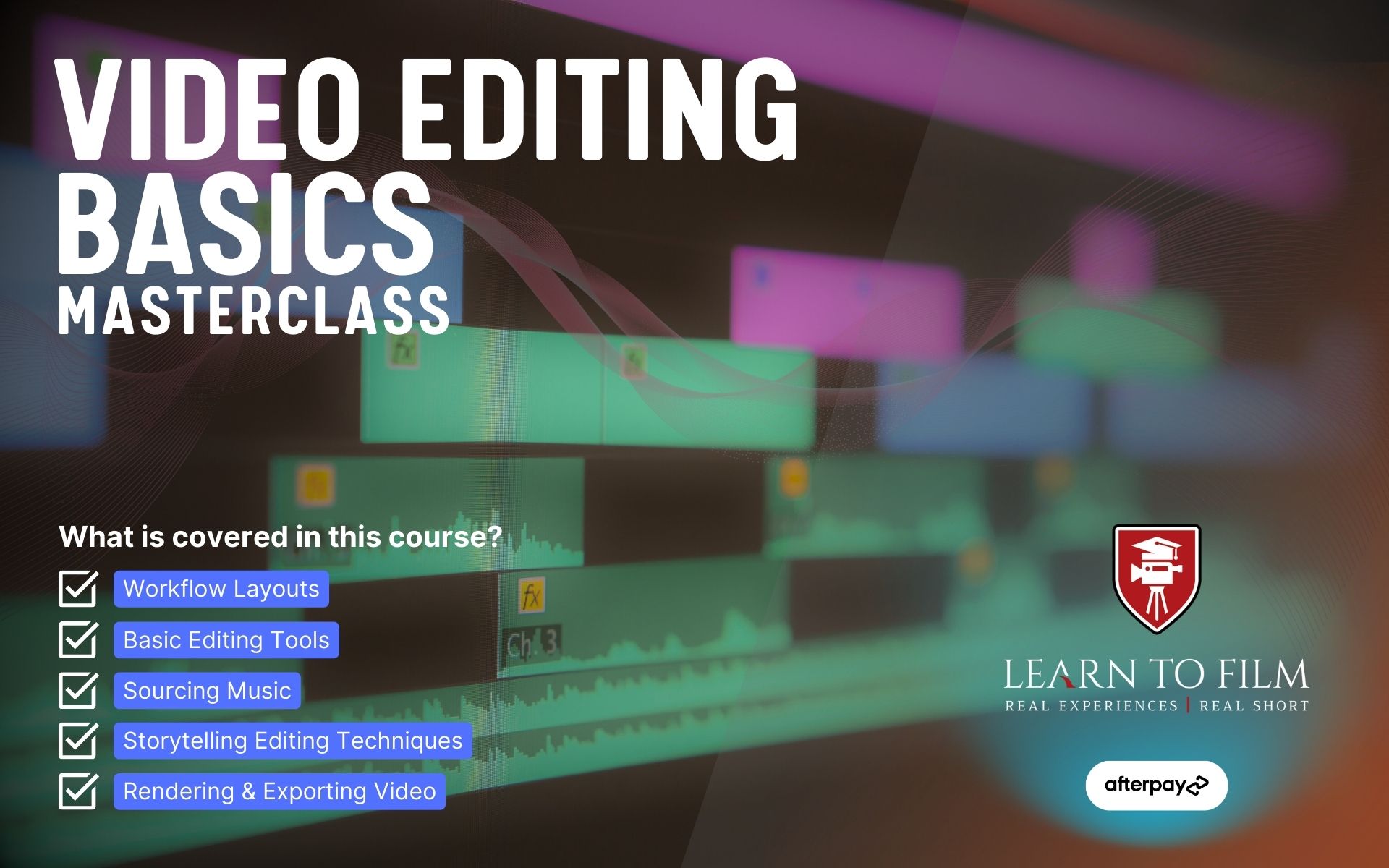 Do your video editing skills fall way short of where you want them to be?
Are you struggling to give your video content the polish they deserve?
Whether you are an amateur editor trying to break in to the professional scene, or a complete beginner looking to acquire the skills you need to go pro, you have landed in the right place!
Learn to Film's Content Creation Masterclass Series: Video Editing Basics is the answer you've been looking for.
In this hands-on intensive short course, you'll come away with the fundamental skills and techniques that will help you bridge the gap between amateur and professional.
Our experienced instructors will guide you through the entire video editing process and cover key areas such as:
👊 Importing footage and organising your workspace
👊 Editing video content and using handy, time saving shortcuts
👊 Editing audio and adding transitions and effects
👊 Exporting a project with one of the various output settings
You'll learn how to work efficiently and effectively, how to manage your time, and how to overcome creative blocks.
We'll provide you with the tips and tricks you need to succeed in the industry and build a portfolio that showcases your talent.
This 1-day intensive in video editing will provide you with the confidence and skills you need to take your video editing game to the next level.
Enrol today and start your journey towards becoming a skilled and successful video editor!

What you'll learn in Video Editing Basics
This Video Editing Basics course covers the whole entire Post-Production Process from start to finish
Learn the basics of Adobe Premiere Pro non-linear editing platform
Source, find and select the right music tracks for your edit that'll bring your video to life
Learn how to apply graphics and titles to your video production, what works and what doesn't
Learn about the multitude of export formats you can output your video to and which ones work for your project
Course Bonuses
12 Months access to our support forums
20% off on all hires from our camera rental partners
1x one-on-one 30-minute session with our CEO on how to make a living from this course
Practise footage to edit after your course
We'll review and comment/support your next 5 videos you create after your course
Camera Kit List – Everything you'll need to get started
The Video Editing Basics course is an excellent introduction to the craft of video editing, and working with Premiere Pro.
Learn professional post-production workflows from asset management and workflow tips to handy shortcuts and storytelling techniques to help engage and compel your short attention-deficient audience to watch your entire video and not just the first 30 seconds.
If you are looking to start your journey as an editor, Post-Production Supervisor or even to manage and edit video content for your business, this is the course for you.
Learn from the pros… become a pro. After this course, you will be ready to expand your repertoire into project management, editing, colour grading, storytelling, and more and start creating content like this:
Remember: you can take up any one of our courses in every state across Australia. If a course near you isn't available, please fill in the "Interested in this course" form on this page and we will get in contact with you to ensure we can provide something suitable.
Find a course near you:
Film Courses Sydney | Film Courses Brisbane | Film Courses Melbourne | Film Courses Perth | Film Courses Adelaide |
Course Batches
Video Editing Basics
TAKE THIS COURSE

12 SEATS LEFT
Course Curriculum
Video Asset Management
Folder Structure Details

00:00:00

Setting Up a Project for Editing: Premiere Details

00:00:00

DAMs Details

00:00:00

Sourcing Graphic Assets
Subscription Services Details

00:00:00

Licenses: Types and Usage Details

00:00:00

Quick Cutting: Editing Basics
UI (User Interface) Details

00:00:00

Tools Details

00:00:00

In and Out Points Details

00:00:00

Adding Footage to the Sequence Details

00:00:00

J & L Cuts Details

00:00:00

Using Markers Details

00:00:00

Telling a Story with Editing Details

00:00:00

Rendering Video
Course Reviews
5 stars

0

4 stars

0

3 stars

0

2 stars

0

1 stars

0
No Reviews found for this course.