Learn to Film Real Estate Videos
Learn to Film Real Estate Videos
0( 0 REVIEWS )
9 STUDENTS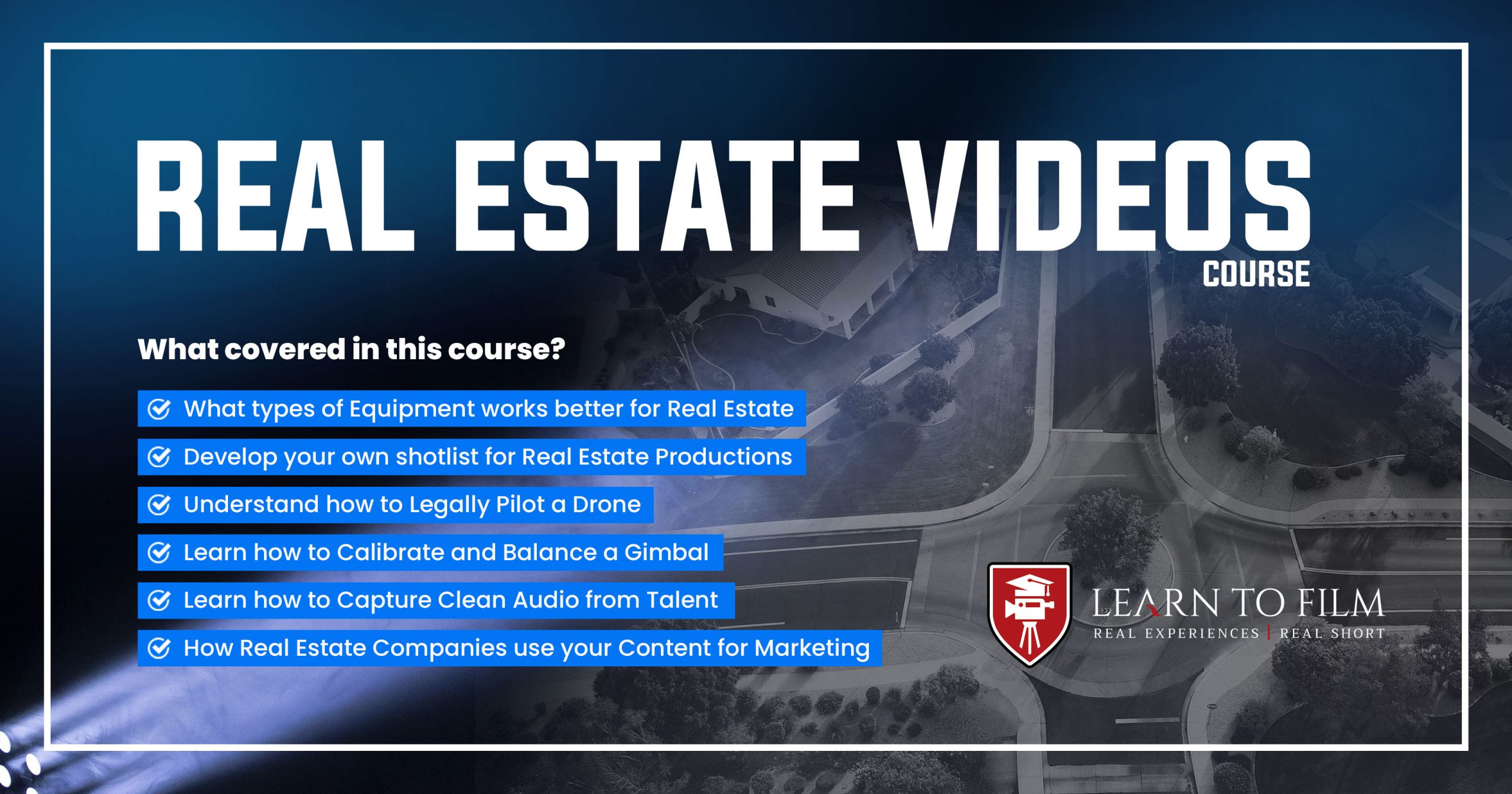 Learn everything from finding clients, quoting, managing clients and delivering high quality real estate videos from start to finish.
What you'll learn
What types of equipment work better with Real Estate
Learn how to calibrate and balance a gimbal setup
How to develop your own shot list for Real Estate productions
Learn how to capture clean audio from talent on set
Understand how to legally use and pilot a drone
Understand how Real Estate companies use your content for marketing
Course Bonuses
20% off on all hires from our camera rental partners
1x one-on-one 30 minute session with our CEO on how to make a living from this course
We'll review and comment/support your next 5 videos you create after your course
Camera Kit List – Everything you'll need to get started
Are you tired of showing your clients the same boring listings? Is the price of professional video production beyond your budget yet you'd still like to offer beautiful videos to your product offerings? Then perhaps you need our Shooting Real Estate course.
Learn everything you need to start creating stunning video for your business, from equipment knowhow, shooting principals and drone flying to editing and rendering.
After this course you will not only be able to start producing your very own videos from start to finish, but you will also be able to train and retain your very own in-house video production team.
Remember: you can take up any one of our courses in every state across Australia. If a course near you isn't available, please fill in the "Interested in this course" form on this page and we will get in contact with you to ensure we can provide something suitable.
What to expect
Day 1: Pre-Production & Filming
Welcome to Learn To Film. Before spending the next two days together we will get to know each other a little.
First we will explore the different and necessary hardware for your videos, specifically compiled for Real Estate shooting.
Next you will learn how to operate all that equipment, from mounting gear and camera settings to lighting and audio gear, including how to fit and operate lapel and usb microphones.
After learning shooting fundamentals we will delve into HDR pictures, 360 images and virtual tour software.
After lunch we will review our shot list and check out our gear, then we will travel to the location of the property we are going to shoot.
Upon arrival we will observe safe practices in setting up our equipment.
We will achieve our shots throughout the property using a range of motions and techniques, including 360 and HRD images.
Finally we will pack down, return to the class and check our gear in before departing for the night.
Day 2: Editing & Delivery
We will start the day with a review of yesterdays performance.
Today is about post production. We will start by downloading our assets, including titles, client logo, music selection, voice over script and drone footage.
Using Adobe Premiere we will start and edit our project, using examples and teacher support along the way.
Select your music and edit the voice over to your video, maintaining good pacing and accompanying footage.
We will take some time to work in Adobe Photoshop to edit our images into HDR photos.
After that we will take our 360 photos and convert them into a readable and interactive image.
Finally we will render our videos and submit them.
After the class students are invited to Drinks and canapes in celebration of their efforts.
All graduates will be awarded their certificates.
Find a course near you:
Film Courses Sydney | Film Courses Brisbane | Film Courses Melbourne | Film Courses Perth | Film Courses Adelaide |
TAKE THIS COURSE

9 SEATS LEFT
Course Curriculum
Day 1: Pre Production & Filming
Induction / Welcome Details

00:30:00

Real-estate Film Equipment – MOD0050 Details

00:30:00

Real-Estate Film Equipment – MOD0050 quiz

00:05:00

Shoot your Own Real-Estate Video – MOD0051 Details

02:00:00

Shoot Your Own Real-Estate Video – MOD0051 quiz

00:05:00

Lunch / Break Details

00:45:00

A Real Real Estate Shoot – MOD0056 Details

04:00:00

Day 2: Editing and Delivery
Post Production Basics – MOD0016 Details

01:00:00

Post Production Basics – MOD0016 quiz

00:05:00

Real Estate Post Production – MOD0057 Details

03:00:00

Details

00:00