Pre-production Scriptwriting and Storyboarding
Pre-production Scriptwriting and Storyboarding
0( 0 REVIEWS )
20 STUDENTS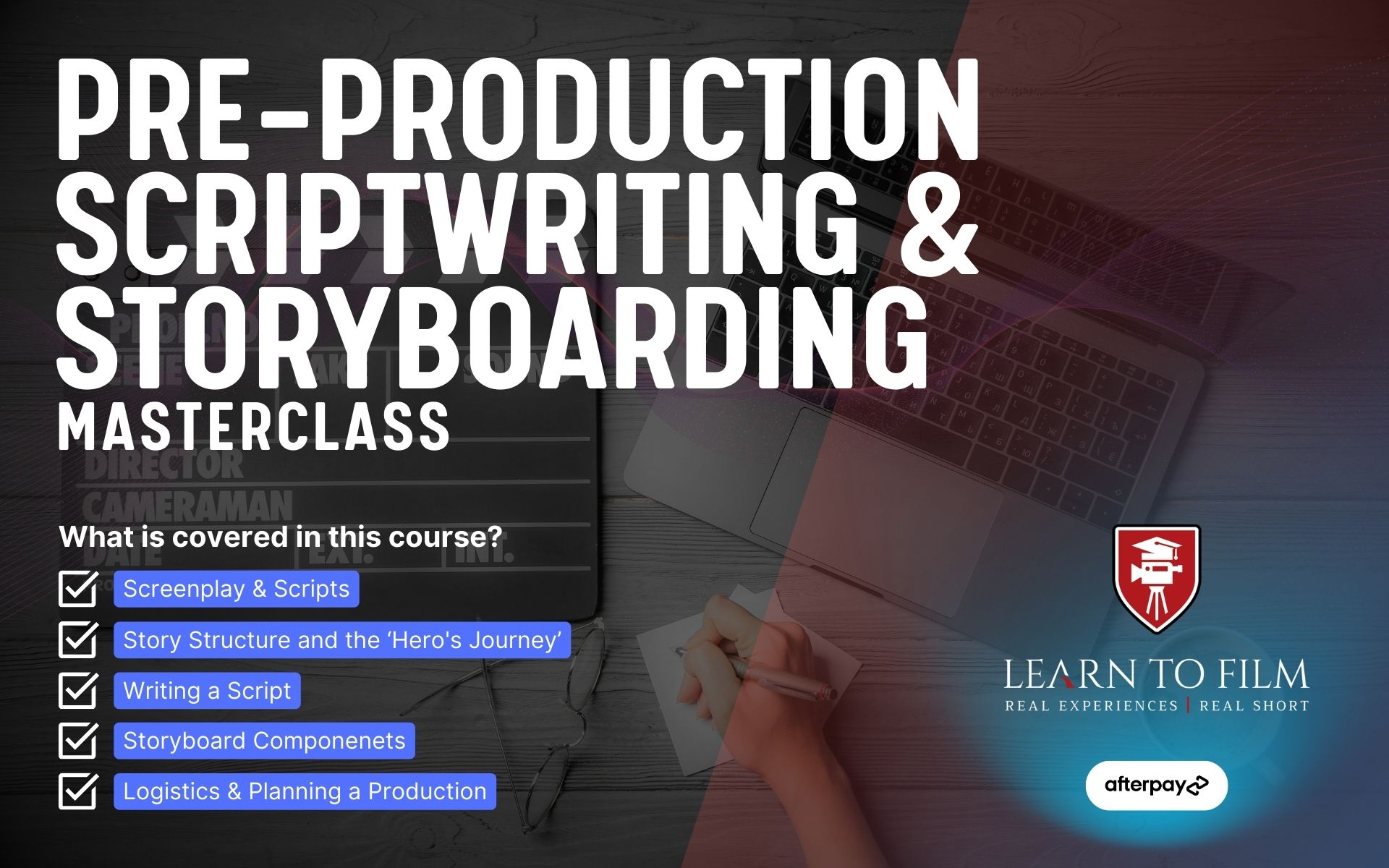 Have you ever wanted to write a video script or screenplay?
Draw up a storyboard to better visualise your next film or video project?
Or learn the skills required to become a film or video producer?
If that's you, you're in the right place.
Learn to Film's Content Creation Masterclass Series: Pre-Production, Scriptwriting, and Storyboarding course will get you up to speed in no time.
In this 1-day workshop, you will learn about:
👊 The logistics of planning a shoot
👊 What documentation you'll need to work with
👊 Which crew members you'll likely encounter
👊 Formatting a script or screenplay
👊 Writing character dialogue
👊 Structuring a story and what the hero's journey is
👊 Laying out a storyboard, and
👊 Expressing dialogue and action on a storyboard
If the pre-production phase of the content creation spectrum is where your goals lie, enrol today and start getting the job-ready training you need.

What you'll learn in Pre-Production, Scriptwriting and Storyboarding
Course designed for aspiring and emerging content creators
Learn how to plan a video production
Learn basic elements of a screenplay: formatting, structure, and dialogue
Explore the hero's journey in storytelling
Understand what an A/V script is and how it differs from a traditional screenplay
Learn how to write effective voice-over scripts and integrate visual elements
Cover basics of storyboarding and its importance in pre-production
Learn how to create storyboards that accurately depict camera angles, lighting, and visual elements
The Pre-production Scriptwriting and Storyboarding course covers the all important pre-production phases of producing content for the screen, and goes over the fundamentals of screenwriting, and visual storytelling through storyboarding.
Students on this course will learn the basic elements of a screenplay, and explore the concept of the hero's journey, and how it applies to creating a compelling story.
You'll learn about the art of Storyboarding, and that you don't need to be an 'artiste' to do it. We'll look at the importance of storyboards in the pre-production process, and how to create storyboards that accurately depict camera angles, lighting, and other visual elements that will be used in the production process.
Course Bonuses
12 Months access to our support forums
20% off on all hires from our camera rental partners
1x one-on-one 30 minute session with our CEO on how to make a living from this course
Practise footage to edit after your course
We'll review and comment/support your next 5 videos you create after your course
Camera Kit List – Everything you'll need to get started
Remember: you can take up any one of our courses in every state across Australia. If a course near you isn't available, please fill in the "Interested in this course" form on this page and we will get in contact with you to ensure we can provide something suitable.
Course Batches
Pre-Production, Scriptwriting & Storyboarding
TAKE THIS COURSE

14 SEATS LEFT