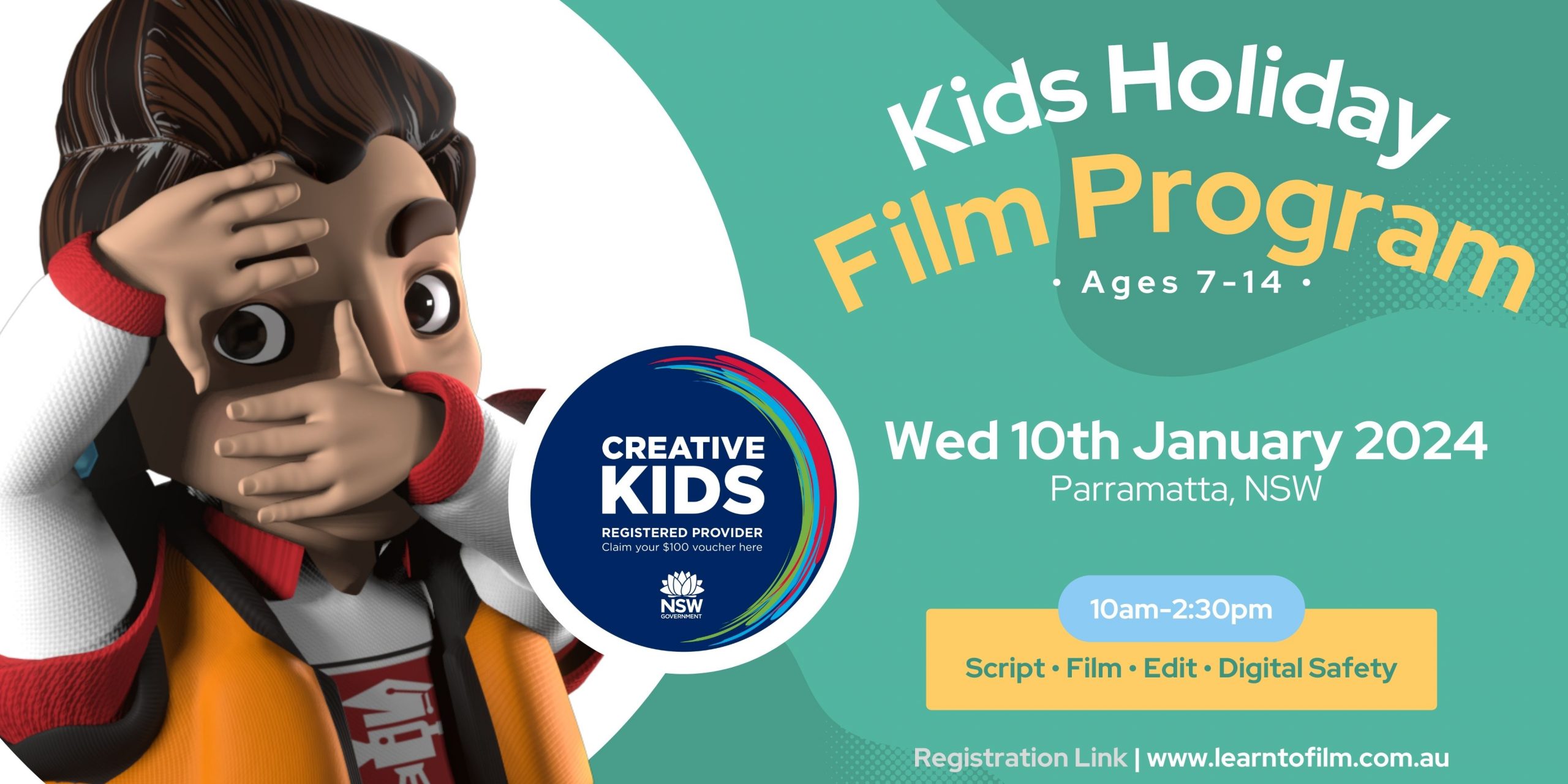 **CLAIM YOUR $50 CREATIVE KIDS VOUCHER IN THIS COURSE**
Learn the basics of video production, from conception to completion, in a 4.5 hour class. With fun examples and relevant terminology, your child will graduate with the skills to bring their imagination to reality with a deep enriched learning in video production.
What you'll learn
How to read and write your own screenplay
Read and compose your own storyboards
Experience importing footage, editing and completing a video
Get to know all about cameras, audio and support equipment
Learn the fundamentals of lighting
Gain the fundamentals of composition and filming
Learn the basics of video production, from conception to completion, in a 4.5 hour short class delivered in our state of the art Studio Facility in Parramatta. With fun examples and relevant terminology, your child will graduate with the skills to bring their imagination to reality.
What to expect
Pre-Production
Day one begins with an induction to the teachers, the industry, and what possibilities await you.
Together we will go through a breakdown of how a screenplay works to ensure that we know how to read a screenplay.
By looking at the screenplay of a popular film, we can see how the script compares to the final scene.
It's finally time to write our very own short screenplay so we can film it in a later class.
The lesson now turns to vision, where we break down the necessary elements needed to make an effective storyboard.
Now that we know how a storyboard works, let's look at the same popular movie scene to see how the work was translated to the final scene.
It's drawing time! Now we will draw 6 frames for our video, ready to shoot and edit in later lessons.
Equipment Knowhow
Welcome to the world of hardware. First we will introduce you to the different camera types and what they're used for.
A camera is rarely used on its own. There are several ways you can mount your camera to allow different movements. Let's go through them.
It's time for the students to get their hands on the camera rig and feel what it's like to handle it.
Audio is arguably the most important element of a quality video. Let's learn about different microphones, how to record with them, and a few tips on how to record quality audio.
Lighting is able to affect an image more than anything else in film. We will show you which types of lighting are available and why you would use them.
Let's go through some examples of good and bad lighting to illustrate how impactful lighting can be on a scene.
Just like a camera, lights aren't used on their own. We will see which equipment is used for shaping the light, changing the colour, working with shadow and creative placement.
Composition & Lighting
We know what equipment is needed to make a video. Now it's time to learn how to use it. We will learn about the golden rules of composition: how to frame a shot properly and how each rule can shape the viewers' emotions.
 We are now able to frame a shot well, so in this live demonstration we will apply our lighting knowledge to polish our shot. First we start with the use of 3 point lighting.
After using our own lights for the 3 point lighting demonstration, we will learn how to use available light and highlight how not to use it.
Finally we will have some fun with creative lighting. By looking at some examples of different lighting techniques we can attempt to replicate several fun ways to light people.
Make a Video
We have a screenplay and we have a storyboard. We know what equipment we need and how to frame and light our scene. Now we get a little technical. Now… we learn how to do all the little things in-camera that can further help us get a great image. During this unit we will use Learn To Film posters (as well as a live demonstration) to see exactly how we can achieve a balanced image that is easy to work with.
It's filming time. We will take the students around the school and shoot our scene, starting with an establishing shot of the school and working our way into the classroom. This will involve using all of our newly acquired skills, directing our students to take part as actors, and getting a taste of directing alongside our teachers. It will also involve recording a voice over for our video which will be recorded back in class.
Learn to Edit
There are a few extra processes in the post-production process besides editing. The first thing we will do is place our footage and sound on our computer. This is where we explain our folder structure and why it's important to keep your project organised.
We need music for our video. Let's go to a subscription website where we can look for and download music. This will help inform the pace and feel of our video.
After acquiring music, as well as a (Learn To Film) logo for our video, we have everything we need to start editing. We will place them in the right place and get started on the edit.
Using the industry standard editing software (Adobe Premiere), we will display on the big screen exactly what it looks like and how it works.
It's editing time. Now we will go through our footage, find the takes that we like and start constructing the video. This will include music and our voice over.
After our first draft it's time to start polishing the video. This starts with colour correction, where we make sure that all the shots we used are similar in brightness and colour.
Now that our shots are all matching each other, it's time to give the entire video a unique look with a process called colour grading.
Now we need titles: the text and pictures that need to come up on screen as well as the logo we are using.
Congratulations, we've made our video from start to… almost finish. Finally, we will render our video, taking it from our editing software and turning it into a file that you can play to friends, upload to social media, or email to everyone you know.
Find a course near you:
Film Courses Sydney | Film Courses Brisbane | Film Courses Melbourne | Film Courses Perth | Film Courses Adelaide |
Course Batches
Kids Film Workshop
TAKE THIS COURSE

2 SEATS LEFT
Course Curriculum
Pre-Production
Scriptwriting & Screenplay – MOD0101.K1

00:30:00

Camera Knowhow
Camera Equipment Learning, Audio, Tripods, Lighting – MOD0102.K1

00:30:00

Composition & Lighting
Composition, Framing & Rule of Thirds – MOD0103

01:00:00

Make a Video Together
Filming Project – MOD0104

01:00:00

Learn to Edit
Video Editing Basics – MOD0105.K2

01:00:00