3 Day Video Production Course - Beginners
3 Day Video Production Course - Beginners
0( 0 REVIEWS )
53 STUDENTS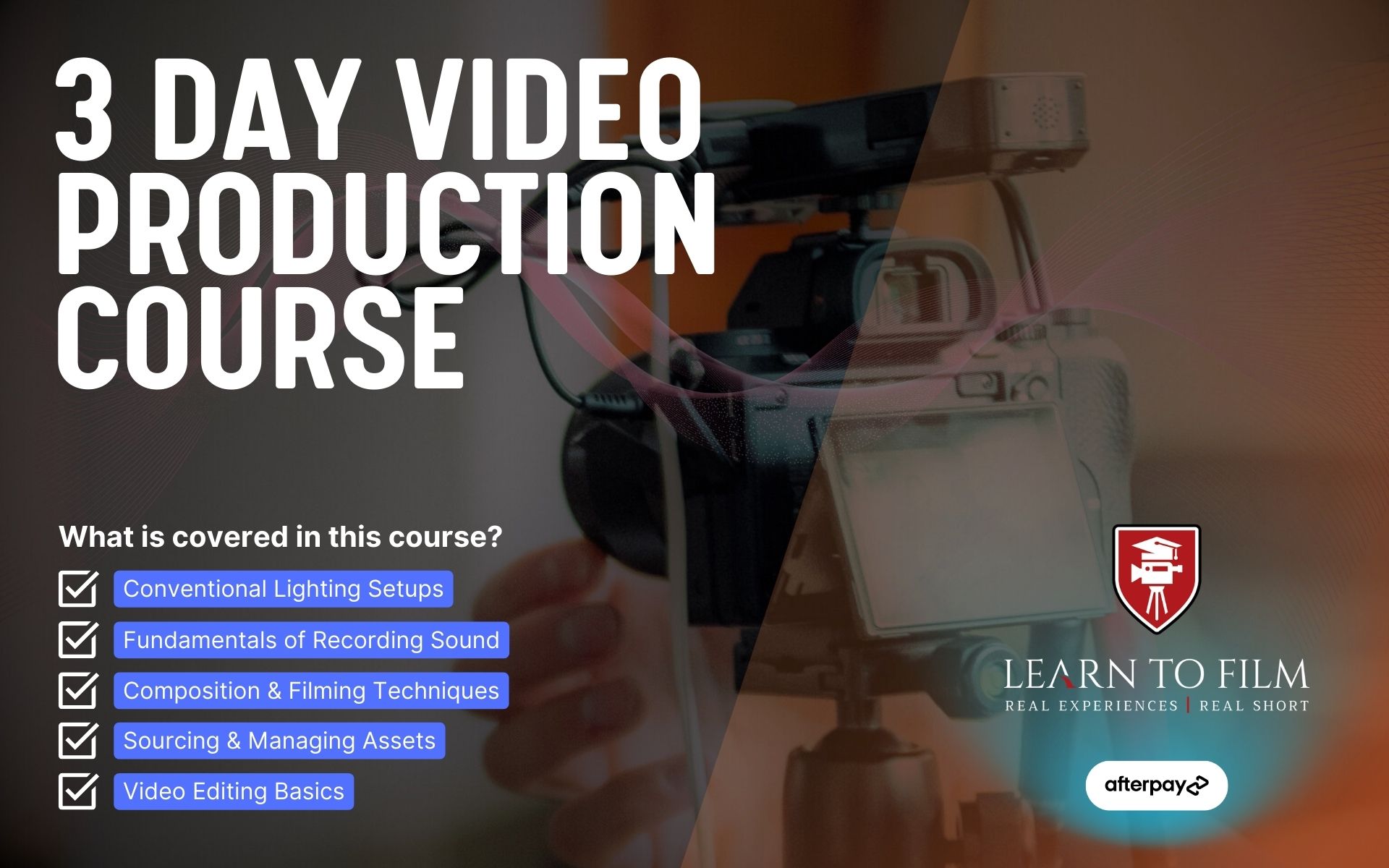 Learn video production and filmmaking practical fundamentals in 3 days. Camera operating, framing, sound, lighting & editing.
What you'll learn
Get up to speed with industry terminology and lingo
Understand the whole post production procedure
Learn the fundamentals of lighting and lighting subjects
Experience a workshop that will get you well equipped and ready to tackle the industry
Gain the fundamentals of universal camera operations and features
Learn the importance of audio and how it affects your production
Course Bonuses
12 Months access to our support forums
20% off on all hires from our camera rental partners
1x one-on-one 30 minute session with our CEO on how to make a living from this course
Practise footage to edit after your course
We'll review and comment/support your next 5 videos you create after your course
Camera Kit List – Everything you'll need to get started
Are you more than a little curious about the process of making videos? Do you need to start from the beginning, but wish to make an immediate impact on your company or clients? The 3 Day Film School course is for you.
In this course you will learn how to plan a project, pull a crew together, write a script and storyboard, operate professional equipment, and finally edit and execute your video like a pro.
After three amazing days in Film School Sydney you will have the capability to create impactful video content from start to finish.
Remember: you can take up any one of our courses in every state across Australia. If a course near you isn't available, please fill in the "Interested in this course" form on this page and we will get in contact with you to ensure we can provide something suitable.
Find a course near you:
Film Courses Sydney | Film Courses Brisbane | Film Courses Melbourne | Film Courses Perth | Film Courses Adelaide |
Course Batches
3 Day Video Production Course
TAKE THIS COURSE

-14 SEAT LEFT
Course Curriculum
Day 1: Lighting
Conventional Lighting Setups Details

00:00:00

Creating a 'look' With Lighting Details

00:00:00

Day 1: Audio
The Importance of Sound for Video Details

00:20:00

Fundamentals of Recording Sound Details

00:30:00

Sourcing Appropriate Sound FX and Music Details

00:00:00

Working with Voice Overs Details

01:00:00

Using a boom Microphone Details

00:35:00

Using a Lapel Microphone Details

00:35:00

Cleaning Audio: What is Possible? Details

00:25:00

Working with a Music Composer Details

00:45:00

Bit Rates, Formats & Exporting Audio Details

00:15:00

Work Audio in Post Details

02:30:00

Day 2: Composition & Filming Techniques
Composition Details

00:00:00

Mise-en-scène Details

00:00:00

Camera Settings Details

00:00:00

Working with Talent Details

00:00:00

Set Dressing Details

00:00:00

Day 3: Video Asset Management
Folder Structure Details

00:00:00

Setting Up a Project for Editing: Premiere Details

00:00:00

DAMs Details

00:00:00

Day 3: Sourcing Graphic Assets
Subscription Services Details

00:00:00

Licenses: Types and Usage Details

00:00:00

Day 3: Editing Basics
UI (User Interface) Details

00:00:00

Tools Details

00:00:00

In and Out Points Details

00:00:00

Adding Footage to the Sequence Details

00:00:00

J & L Cuts Details

00:00:00

Using Markers Details

00:00:00

Telling a Story with Editing Details

00:00:00

Day 3: Rendering Video
Rendering Details

00:00:00