Advanced Editing
0( 0 REVIEWS )
32 STUDENTS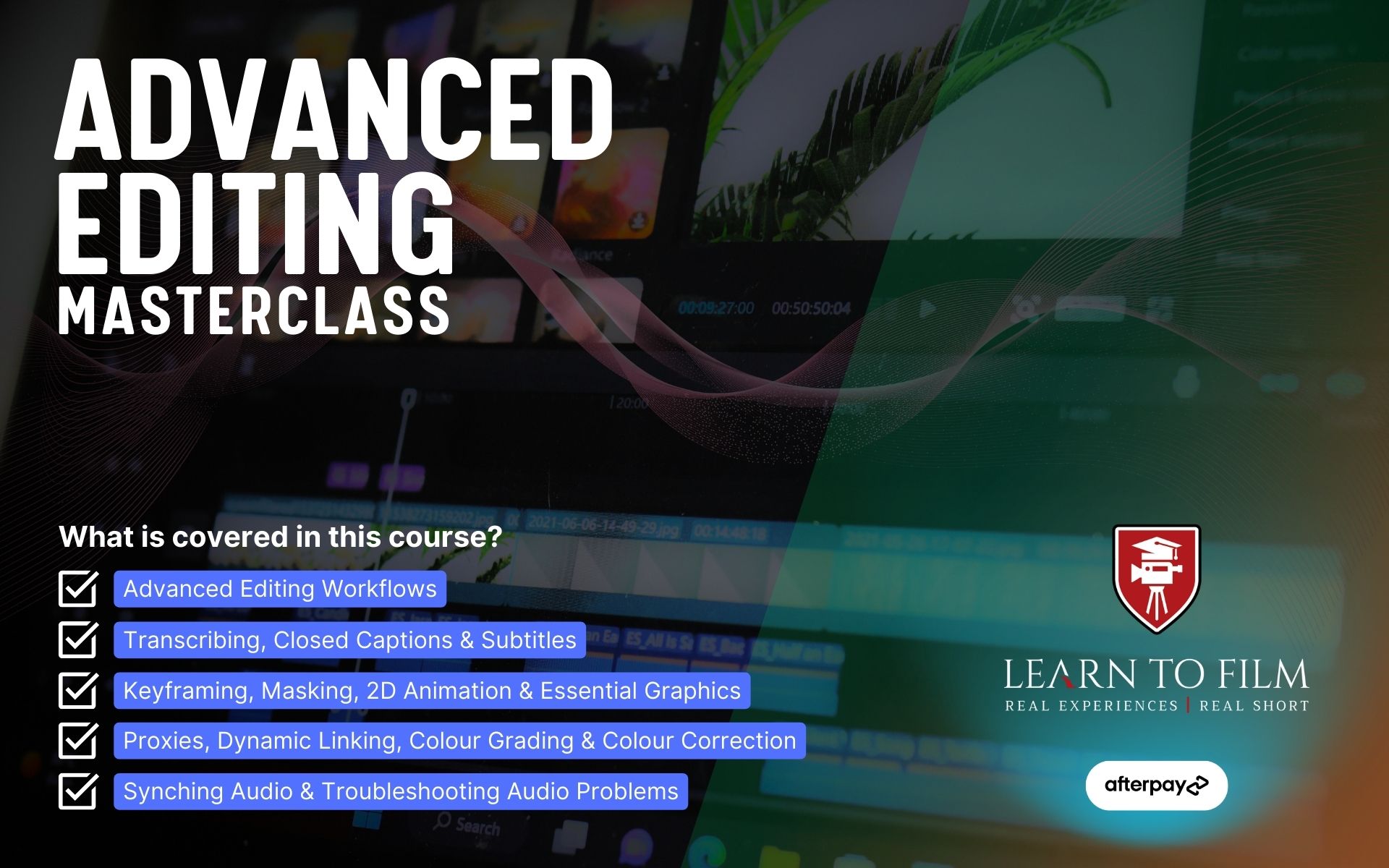 Attention video editors!
Do you feel like you're ready to take your non-linear editing skills to the next level?
If that's a yes, then you've landed in the right place!
Learn to Film's Content Creation Masterclass Series: Advanced Editing is a hands-on intensive that will turbo boost your Premiere Pro skills.
Our expert instructors will guide you through the most advanced editing techniques, including:
👊 Multi-cam editing
👊 Working with proxies
👊 2D animation
👊 Captioning and subtitles
👊 Colour correction
You'll learn in a hands-on environment, working with a real project that will provide you with job-ready skills training to help land your dream job in post-production.
Whether you're looking to advance your career in post-production or simply want to take your video editing skills to the next level, our Advanced Editing Masterclass is the perfect solution.
Enrol today and start creating content that truly stands out!

What you'll learn in Advanced Editing
Take your basic editing skills to the next level
Learn the difference between captions and subtitles
Animate clips in 2D space
Link clips with After Effects
Adjust the speed of clips with time remapping
Course Bonuses
12 Months access to our support forums
20% off on all hires from our camera rental partners
1x one-on-one 30 minute session with our CEO on how to make a living from this course
Practise footage to edit after your course
We'll review and comment/support your next 5 videos you create after your course
Camera Kit List – Everything you'll need to get started
The Advanced Editing course teaches advanced video editing techniques such as trimming, multi-cam editing, stabilising footage, colour correction, and project management. Students will learn how to use advanced editing software and work on various editing projects to gain hands-on experience. The course will be guided by instructors who are actively producing videos for well known companies. By the end of the course, students will be proficient in editing high-quality video content and become ready for a career in post production.
Remember: you can take up any one of our courses in every state across Australia. If a course near you isn't available, please fill in the "Interested in this course" form on this page and we will get in contact with you to ensure we can provide something suitable.
What to expect
The advanced editing class begins with understanding how to use post production software
Learn how to use the tools post production softwares provide
Learn advanced techniques like stabilisation, masking, captioning and time remapping
Understanding proxies, grading, colour correction and project management
Find a course near you:
Film Courses Sydney | Film Courses Brisbane | Film Courses Melbourne | Film Courses Perth | Film Courses Adelaide |
Course Batches
Advanced Editing
TAKE THIS COURSE

14 SEATS LEFT
Course Curriculum
| | | | |
| --- | --- | --- | --- |
| | Layout shortcuts Details | | 00:00:00 |
| | Multi-camera editing workflow Details | | 00:00:00 |
| | Closed captions vs subtitles Details | | 00:00:00 |
| | Transcribe feature Details | | 00:00:00 |
| | Keyframing Details | | 00:00:00 |
| | Essential graphics feature Details | | 00:00:00 |
| | 2D Clip Animation Details | | 00:00:00 |
| | Working with Proxies Details | | 00:00:00 |
| | Motion blur – it can be done in Premiere Details | | 00:00:00 |
| | Dynamic Linking Details | | 00:00:00 |
| | Masking Details | | 00:00:00 |
| | Grading and Colour Correction Details | | 00:00:00 |
| | Synching audio Details | | 00:00:00 |
| | Addressing Audio Problems Details | | 00:00:00 |