9 Week Job Ready Filmmaking Course
0( 0 REVIEWS )
41 STUDENTS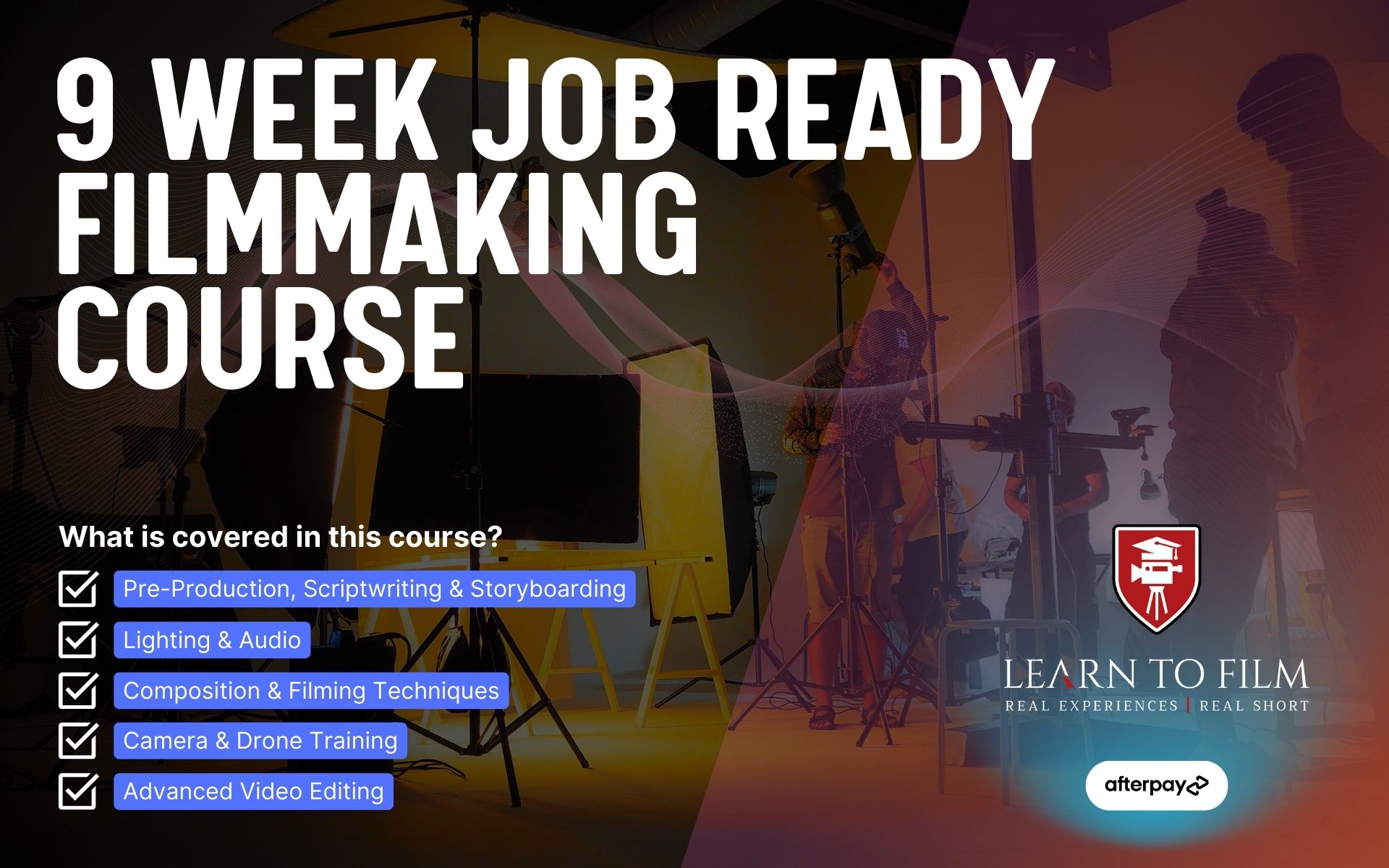 This course brings together all of the components of our 5-week Filmmakers Course into a comprehensive program covering project ideation right through to exporting your graded and colour-corrected final output.
This program, however, also introduces you to additional job-ready skills that every content creator should have, including podcasting, operating and filming using a drone, as well as providing you with a more advanced understanding of the editing process.
What you'll learn in the 9 Week Job-ready Course
Navigating your way through the logistics of pre-production
Scriptwriting and storyboarding
How to compose a shot with widely used cinematic compositional principles
Some of the diverse range of production equipment and camera gear
Shoot a collaborative class project
Basic and advanced editing techniques using Premiere Pro
How to fly and film with a drone
The role of a video producer
Podcasting & Broadcasting
Course Bonuses
12 Months access to our support forums
20% off on all hires from our camera rental partners
x1 one-on-one 30-minute sessions with our CEO on how to make a living from this course
Practise footage to edit after your course
We'll review and comment/support your next 3 video podcasts you create after your course
Camera Kit List – Everything you'll need to get started
The 9 Week Job-ready Filmmaking Course teaches all aspects of filmmaking, including pre-production, production, and post-production.
This comprehensive program covers screenwriting, directing, camera techniques, lighting, sound, and editing.
You will be guided by experienced instructors, and you will produce a professional-grade short film project.
In addition to the core curriculum, you'll also learn about podcasting and broadcasting, drone operation, video producing, and advanced post-production editing.
By taking these modules, students can learn skills in podcast production and broadcast, drone operation, video production, and advanced editing techniques.
This course is ideal for any content creator interested in taking their career, business, channel, or their skill set to the next level.
You don't need any prior experience.
Simply enroll today and you can be on your way to developing a diverse range of usable skills in digital content creation and publication.
Perfect for YouTubers, freelance videographers, business owners, marketing or social media managers, and filmmakers.
Remember: you can take up any one of our courses in every state across Australia. If a course near you isn't available, please fill in the "Interested in this course" form on this page and we will get in contact with you to ensure we can provide something suitable.
Find a course near you:
Film Courses Sydney | Film Courses Brisbane | Film Courses Melbourne | Film Courses Perth | Film Courses Adelaide |
Course Batches
9 Week Job Ready Filmmaking Course
TAKE THIS COURSE

13 SEATS LEFT
Course Curriculum
PRE-PRODUCTION, SCRIPTWRITING AND STORYBOARDING
Planning Your Project Details

00:00:00

What Is a Script? Details

00:00:00

Story Structure Details

00:00:00

Creating a Script Details

00:00:00

What is a Storyboard? Details

00:00:00

Storyboard Breakdown Details

00:00:00

LIGHTING AND AUDIO
Conventional Lighting Setups Details

00:00:00

Creating a 'look' With Lighting Details

00:00:00

The Importance of Sound for Video Details

00:20:00

Fundamentals of Recording Sound Details

00:30:00

Sourcing Appropriate Sound FX and Music Details

00:00:00

Working with Voice Overs Details

01:00:00

Using a boom Microphone Details

00:35:00

Using a Lapel Microphone Details

00:35:00

Cleaning Audio: What is Possible? Details

00:25:00

Working with a Music Composer Details

00:45:00

Bit Rates, Formats & Exporting Audio Details

00:15:00

Work Audio in Post Details

02:30:00

COMPOSITION AND FILMING TECHNIQUES
Composition Details

00:00:00

Mise-en-scène Details

00:00:00

Camera Settings Details

00:00:00

Working with Talent Details

00:00:00

Set Dressing Details

00:00:00

CAMERA TRAINING
Project Briefing Details

00:00:00

Reviewing Shot List Details

00:00:00

Briefing the Talent Details

00:00:00

Roll Camera – Shoot a Collaborative Class Video Project Details

00:00:00

Wrap up and Pack Gear Details

00:00:00

VIDEO EDITING BASICS
Folder Structure Details

00:00:00

Setting Up a Project for Editing: Premiere Details

00:00:00

DAMs Details

00:00:00

Subscription Services Details

00:00:00

Licenses: Types and Usage Details

00:00:00

UI (User Interface) Details

00:00:00

Tools Details

00:00:00

In and Out Points Details

00:00:00

Adding Footage to the Sequence Details

00:00:00

J & L Cuts Details

00:00:00

Using Markers Details

00:00:00

Telling a Story with Editing Details

00:00:00

DRONE: LEARN TO FLY AND FILM
Drone Types Details

00:00:00

Film Drone Parts Details

00:00:00

Drone Flying: Focus Advice Details

00:00:00

Products and Price Points Details

00:00:00

Acquiring Flying Rights Details

00:00:00

Identifying a Safe Flight Path Details

00:00:00

Government App Details

00:00:00

Free Practice Details

00:00:00

Drone Flying Basics: Takeoff, Landing, Basic Movements and Shot Types Details

00:00:00

Controlling the Camera Details

00:00:00

Shooting Skills Details

00:00:00

SOCIAL MEDIA VIDEO CONTENT CREATION
The Importance of Social Media Details

00:35:00

Algorithms and Why They're Important Details

00:35:00

Planning and Generating Vlog Content Details

00:35:00

Social Media Video Types and Formats Details

00:35:00

Marketing Your Content on Today's Popular Platforms Details

00:35:00

Equipment for Social Media Content Production Details

01:00:00

Getting your Content Platform Ready Details

00:00:00

Marketing Details

00:00:00

ADVANCED EDITING
Layout shortcuts Details

00:00:00

Multi-camera editing workflow Details

00:00:00

Closed captions vs subtitles Details

00:00:00

Transcribe feature Details

00:00:00

Keyframing Details

00:00:00

Essential graphics feature Details

00:00:00

2D Clip Animation Details

00:00:00

Working with Proxies Details

00:00:00

Motion blur – it can be done in Premiere Details

00:00:00

Dynamic Linking Details

00:00:00

Masking Details

00:00:00

Grading and Colour Correction Details

00:00:00

Synching audio Details

00:00:00

Addressing Audio Problems Details

00:00:00

LEARN HOW TO PODCAST AND BROADCAST
Podcast Software and Equipment Details

00:50:00

Running a Show Details

00:50:00

Working with Guests Details

00:30:00

Prepare Your Own Show Details

00:50:00

Studio Experience Details

01:40:00

Stretching Content Details

00:30:00