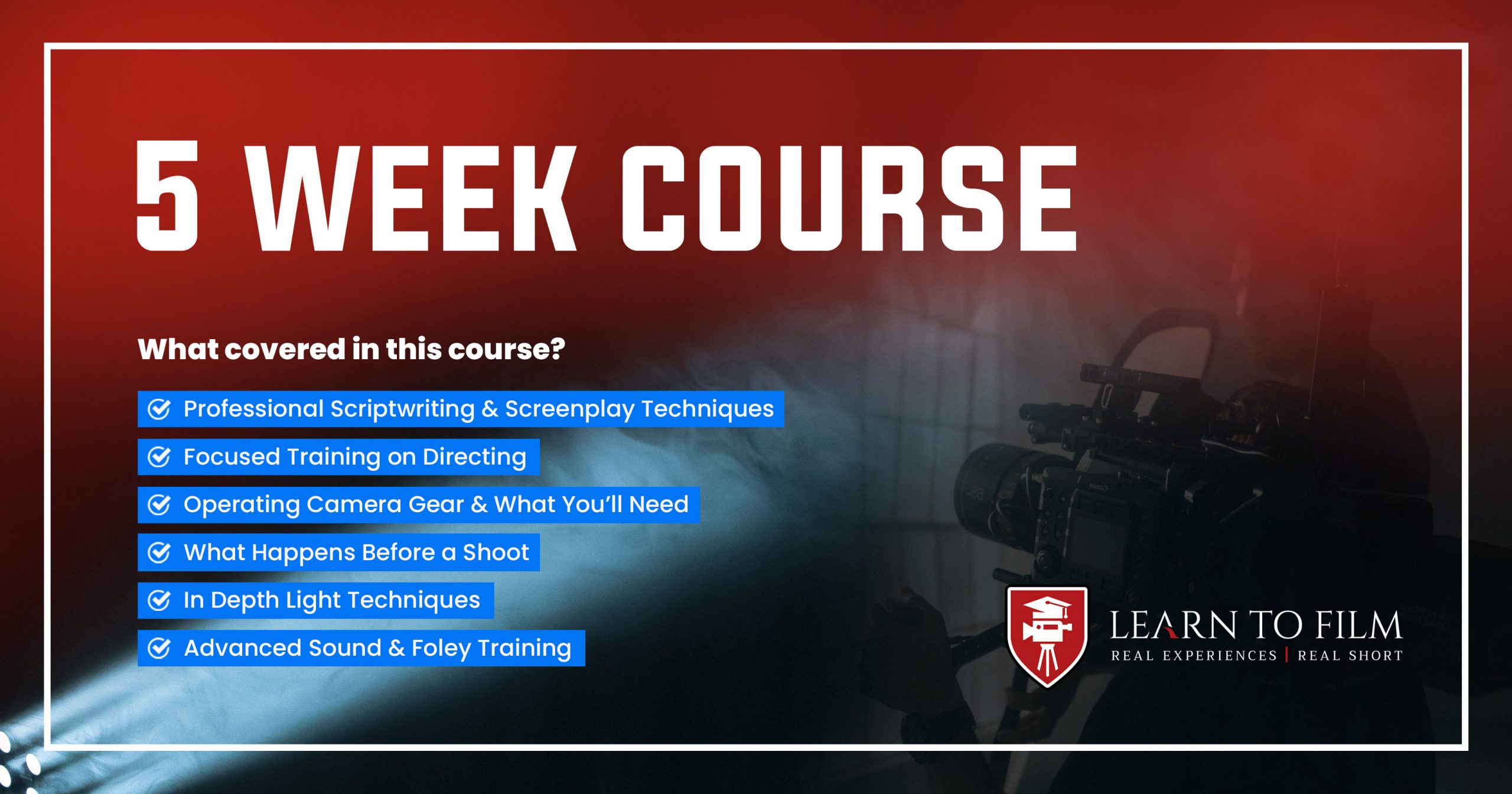 With this course spanning 1 day a week over 5 weeks you can learn everything in video production from start to finish. Script writing, crew management, directing and everything else.
What you'll learn
Plan projects efficiently
Write and read a script
Learn Post Production
Read and create a storyboard
Understand how to earn a living from the content you'll create
Learn everything you'll need to get your career started in just five days
Course Bonuses
12 Months access to our support forums
20% off on all hires from our camera rental partners
1x one-on-one 30 minute session with our CEO on how to make a living from this course
Practise footage to edit after your course
We'll review and comment/support your next 5 videos you create after your course
Camera Kit List – Everything you'll need to get started
What if you could, within only five days, gain the knowledge and experience to front your very own video production? What if you were capable of planning a project, prepping it, shooting and editing it to completion? Well you can with this five day film course.
With a hands on approach you will learn about cinematic and production cameras and how to use them.
Choose with your class whether to produce a Music Video, Reality Documentary/Corporate Documentary or a Short Film in this five day course.
Take on multiple roles when learning how to prepare for a project, shoot your footage and edit it to perfection, and then use all your newly acquired skills to see a real video through from start to finish with your choice of producing a documentary, short film or music video.
After this course you will have a deep understanding of the many roles involved in creating video, from script writer and camera operator to Producer and Director.
With these fundamentals you are well on your way to creating full-scale products for yourself, your clients or your company.
Remember: you can take up any one of our courses in every state across Australia. If a course near you isn't available, please fill in the "Interested in this course" form on this page and we will get in contact with you to ensure we can provide something suitable.
What to expect
Week 1: Pre-Production & Sound Recording
Day one begins with an induction. You will learn a little bit about your educator for the course and each other.
Start the course with a basic introduction to the industry by learning which video types are currently in demand and explore the many roles which comprise the film and video production industries.
Choose one of three videos to produce for your final outcomes. As a class we will select between a music video, documentary or short film. As we learn various skills throughout the production pipeline we will be contributing towards our final video.
We will touch on the various processes than need to be completed in the pre-production process. It is here we can search for and hire talent for our video, should we need some. Students have the option to be the talent if they choose.
Storyboards and scripts are explored, and then, together, we will start to create these documents for our movie. Alongside these we will also create a shot list and review a gear checklist.
After lunch it is all about sound. We will go through recording fundamentals and get hands on with boom mics and lapels mics. We will also learn how to source music and sound from a subscription website, and gain some tips on mixing audio in your projects.
Week 2: Shooting Basics & Coaching
With our talent booked and ready for filming we will get some tips on preparing for and working with them.
The rest of the morning is dedicated to lighting. We will go through different types of lights, lighting looks, modifications, and get hands on when we demonstrate a few lighting setups.
After lunch you will learn about camera equipment. We will then build a rig and learn about shooting principals by operating the camera.
Tomorrow is shoot day, so we will end the day by going through some shoot prep, including the correct practices for setting up and packdown on site.
Week 3 & 4: Shoot a Film
Today is the day! We've learned all the skills we need to get through this, and we're going to start by exploring all the documents we've prepared.
By following the shot list, we will allocate students their roles for the scene and travel to the local location.
At each location we will practice the proper way to set up, record and pack down.
To end the day we will return to the classroom and check our gear in.
Week 5: Post Production (Editing)
In the morning we will discuss how the shooting went.
Post production begins with structuring a folder on your computer and ingesting all the footage and audio we captured.
It's now time to open our editing software and learn the basic controls while setting up the project for editing.
Now we learn the basics of editing before you get stuck into it. The teacher will supervise and guide you through this.
After editing is finished, we will delve into colouring and finally rendering our completed video.
After you render your final project you will submit it to the teacher.
All students are encouraged to enjoy drinks and canapes to celebrate their experience. Those who pass the course will be presented a certificate.
Find a course near you:
Film Courses Sydney | Film Courses Brisbane | Film Courses Melbourne | Film Courses Perth | Film Courses Adelaide |
Course Batches
You'll be notified by phone the next intake date upon purchasing.
TAKE THIS COURSE

11 SEATS LEFT
Course Curriculum
Week 1: Pre-Production & Recording Sound
Induction / Welcome Details

00:30:00

The Lingo of Video Production – MOD0002 Details

00:15:00

Corporate Video Types – MOD0013 Details

00:25:00

Roles in the Video & Film Industry – MOD0078 Details

00:30:00

Planning Your Project – MOD0003 Details

00:45:00

Planning Your Project – MOD0003 quiz

00:05:00

Scriptwriting and Storyboarding – MOD0004 Details

00:45:00

Scriptwriting & Storyboarding – MOD0004 quiz

00:05:00

Lunch / Break Details

00:45:00

Fundamentals of recording sound – MOD0026 Details

00:10:00

Fundamental of Recording Sound – MOD0026 quiz

00:05:00

Using a boom Microphone – MOD0028 Details

00:35:00

Using a Boom Microphone – MOD0028 quiz

00:05:00

Using a lapel Microphone – MOD0029 Details

00:35:00

Using a Lapel Microphone – MOD0029 quiz

00:05:00

Sourcing Appropriate Sound FX and Music – MOD0025 Details

00:25:00

Sourcing Appropriate Sound FX & Music – MOD0025 quiz

00:05:00

Mixing Audio for Video – MOD0032 Details

00:30:00

Mixing Audio for Video – MOD0032 quiz

00:05:00

Week 2: Shooting Basics & Coaching
Coaching a Performance from Talent – MOD0055 Details

01:00:00

Lighting Basics – MOD0054 Details

02:00:00

Lighting Basics – MOD0054 quiz

00:05:00

Lunch / Break Details

00:45:00

Operating and using Camera Gear – MOD0005 Details

02:00:00

Operating & Using Camera Gear – MOD0005 quiz

00:05:00

Setting up for a shoot – MOD0035 Details

00:40:00

Setting Up For a Shoot – MOD0035 quiz

00:05:00

Week 3 & 4: Shoot your Film
Shoot a Video – MOD0058 Details

2 days

Week 5: Post-Production (Editing)
Video Asset Management – MOD0007 Details

00:25:00

Video Asset Management – MOD0007 quiz

00:05:00

Working With Proxies – MOD0011 Details

00:20:00

Working with Proxies – MOD0011 quiz

00:05:00

Quick Cutting: Editing Basics – MOD0012 Details

01:20:00

Quick Cutting: Editing Basics – MOD0012 quiz

00:05:00

Lunch / Break Details

00:45:00

Colouring and LUTs – MOD0008 Details

00:45:00

Colouring & LUTs – MOD0008 quiz

00:05:00

Compile Your Project Details

00:00:00

Rendering Video – MOD0009 Details

00:45:00

Rendering Video – MOD0009 quiz

00:05:00

Details

00:00