Learn How To Podcast & Broadcast
Learn How To Podcast & Broadcast
0( 0 REVIEWS )
31 STUDENTS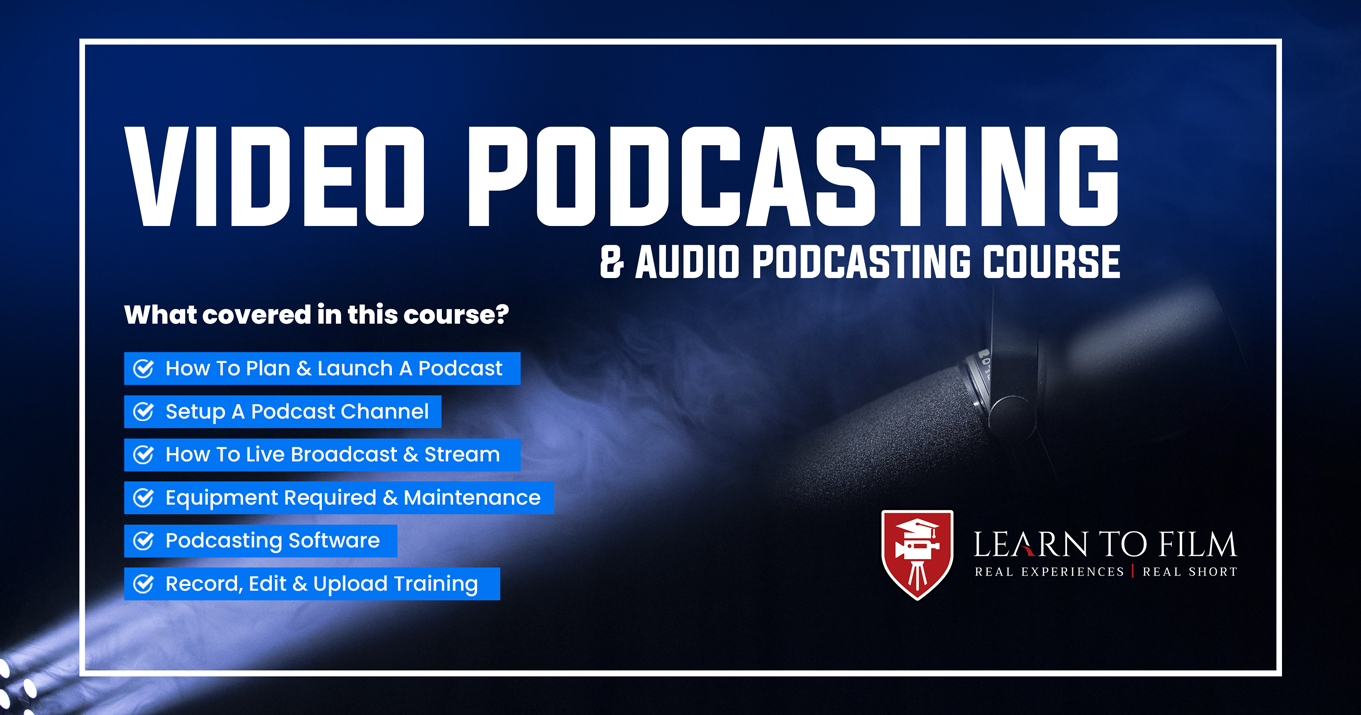 Ever wanted to start your very own podcast? In this course you will learn about the video and audio equipment you need to build out your own podcasting setup, as well as how to both record and live stream your show to your listeners and viewers.
What you'll learn
Learn how to setup podcast, broadcast & multi-camera equipment
Learn how to stream, broadcast & podcast a session
Understand how to direct and upskill talent performance for podcasting
Understand how to operate & maintain all broadcast & podcasting equipment
Learn how to plan a podcast production to maximise user engagement
Get up to speed with the latest podcasting software technologies
Course Bonuses
12 Months access to our support forums
20% off on all hires from our camera rental partners
x1 one-on-one 30 minute sessions with our CEO on how to make a living from this course
Practise footage to edit after your course
We'll review and comment/support your next 3 video podcasts you create after your course
Camera Kit List – Everything you'll need to get started
Do you want to start a podcast or learn about multi-camera broadcasting?
Perhaps you might already have an audio podcast. But what about adding video to the mix, and then recording it live with multiple cameras? Sounds too difficult right? Well its not, and it's not and the cost to do so I quiet low considering the outcome and potential revenue stream you could create from knowing how to do so.
By gaining the capabilities to record, stream and broadcast a video podcast you're not doubling your content, but rather dramatically increasing the amount of products you produce from your recording session with near zero costs to your time.
In this course you will learn all about the equipment necessary to run a video podcast from a low budget setup to a full-blown professional video podcast suite. We will show you how to keep the show running smoothly while you record, live broadcast and even make multiple edits of your show or podcast.
After you complete this course you will have increased your knowledge of production, performance and even what to do with your product once it's complete.
NOTE: This course is ONLY AVAILABLE in Sydney NSW.
What to expect
We start the day by getting to know the teacher and each other.
Delve into the hardware necessary to record and broadcast your shows, from home streamers to professional show producers.
After learning about software and how it all comes together, enjoy a live tour of a state of the art video podcast studio, from the showroom to the control room.
Next we will go through performance and preparation tips so you can keep your show interesting.
After lunch we will get into producing our very own show, from conception to completion.
Once the final project has been submitted, students are encouraged to enjoy drinks and canapes in celebration of their efforts. Graduates will be presented their Learn To Film certificate.
Find a course near you:
Film Courses Sydney | Film Courses Brisbane | Film Courses Melbourne | Film Courses Perth | Film Courses Adelaide |
TAKE THIS COURSE

17 SEATS LEFT
Course Reviews
5 stars

0

4 stars

0

3 stars

0

2 stars

0

1 stars

0
No Reviews found for this course.