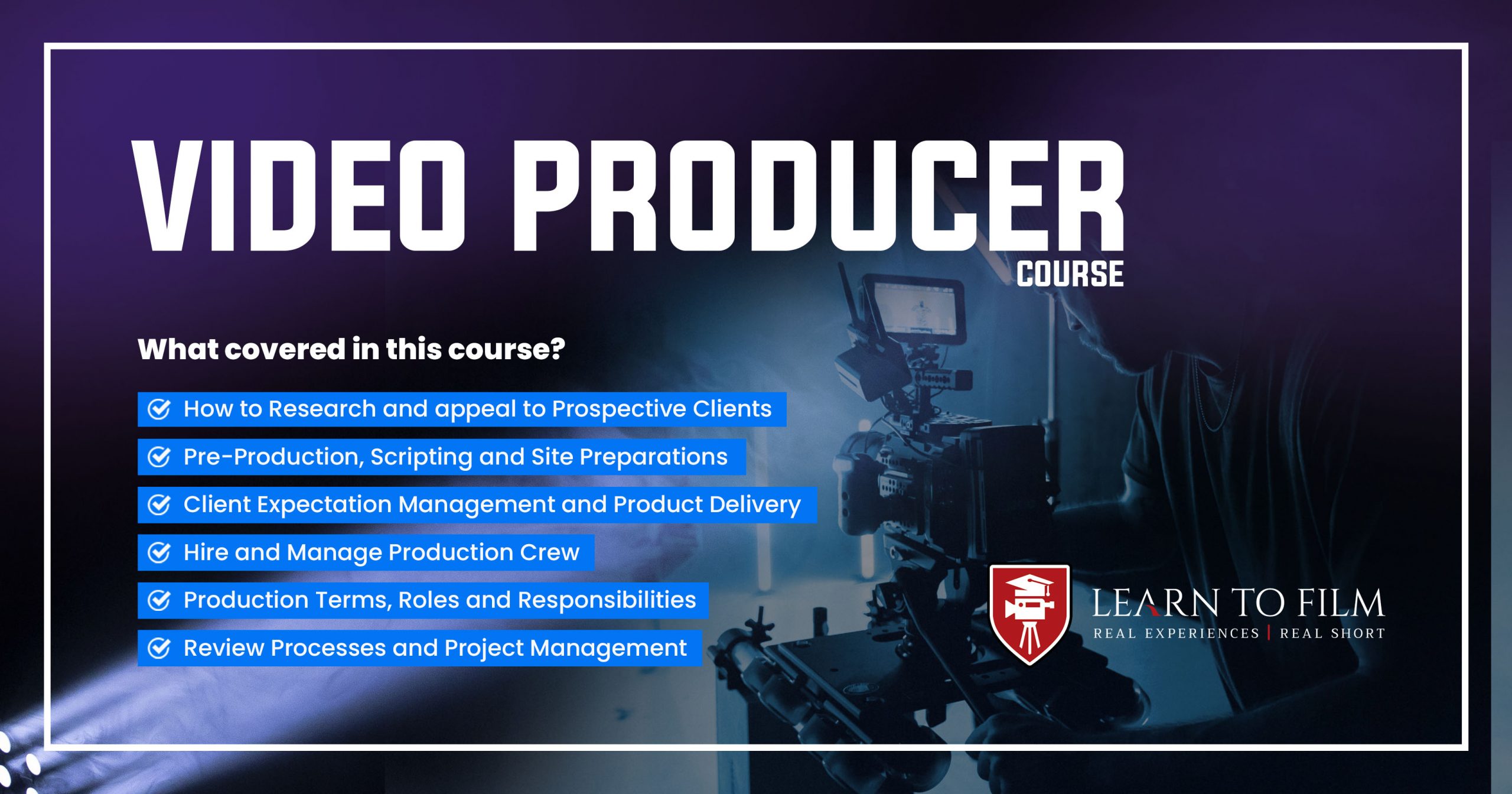 Learn how to manage a video production team from the beginning of your campaign to completion.
What you'll learn
How to research & appeal to prospective clients
Hire and manage production crew
Pre-production, from scripting to site prep
Production terms, roles and responsibilities
Client expectation management and product delivery
Review processes and project management
Course Bonuses
12 Months access to our support forums
20% off on all hires from our camera rental partners
We'll review and comment/support your next 5 videos you produce after your course
Pre-production and project management documentation
Sometimes you simply need quality video for your job, but not all of us have the time and hardware to create our own videos, and many of us just don't have the budget to work with a professional video production house. But what if we could give you the knowledge you need to hire and manage a video production team of your own from conception to client delivery?
What you will become through this course is a video Producer, able to 'talk shop' with the professionals you work with and see through each stage of production knowing exactly what is and is not working. Don't be left in the dark because you don't know the lingo and processes involved.
Learn techniques that professional production houses use to get to know their potential clients, pitch video ideas with clarity and professionalism, choose and keep your crew on track and operate with confidence and conscious awareness of your resources.
This course will not make you a professional Hollywood film producer, but it will allow you to expand your knowledge at a time when such video production is required but you don't want to be left out of the loop, unsure of whether you will are delivering what you are supposed to.
Understand the workings of such projects.
Learn the lingo.
Understand the process.
Know what to expect and demand.
Gain the ability to understand everyone's role for seamless production.
Give your clients what they need today.
Remember: you can take up any one of our courses in every state across Australia. If a course near you isn't available, please fill in the "Interested in this course" form on this page and we will get in contact with you to ensure we can provide something suitable.
What to expect
After an introduction and showreel from our instructor, we will go around the class and hear about who you are, what you do, and how you are looking to apply your new skills.
The morning is dedicated to learning about the industry by exploring some of the roles that comprise it, an ideal crew ensemble for most video productions, and a look at which videos are in demand these days.
Learn the techniques professionals use to get to know prospective clients, their products, brand and place in the market.
Find the right crew and talent with efficiency and learn how to work with them both on set and in the office.
Gain a strong understanding of pre-production and how to use it.
Be aware of on-set practices, securing locations and coaching non-actor talent when needed.
Drive the post production process with clear processes and milestones.
Keep the workload efficient with clear client communication and back-end support.
Find a course near you:
Film Courses Sydney | Film Courses Brisbane | Film Courses Melbourne | Film Courses Perth | Film Courses Adelaide |
TAKE THIS COURSE

14 SEATS LEFT
Course Curriculum
Induction / Welcome Details

00:30:00

Corporate Video Types – MOD0013 Details

00:25:00

Roles in the Video & Film Industry – MOD0078 Details

00:30:00

The Lingo of Video Production – MOD0002 Details

00:15:00

Conceptualisation / Ideation – MOD0001 Details

00:45:00

Getting a Crew Together – MOD0090 Details

01:00:00

Lunch / Break Details

00:45:00

Production Documents – MOD0091 Details

01:00:00

Onsite Producing – MOD0092 Details

01:00:00

The Post Producer – MOD0093 Details

01:00:00

Details

00:00
Course Reviews
5 stars

0

4 stars

0

3 stars

0

2 stars

0

1 stars

0
No Reviews found for this course.