Motion Graphics & Animation Basics
0( 0 REVIEWS )
5 STUDENTS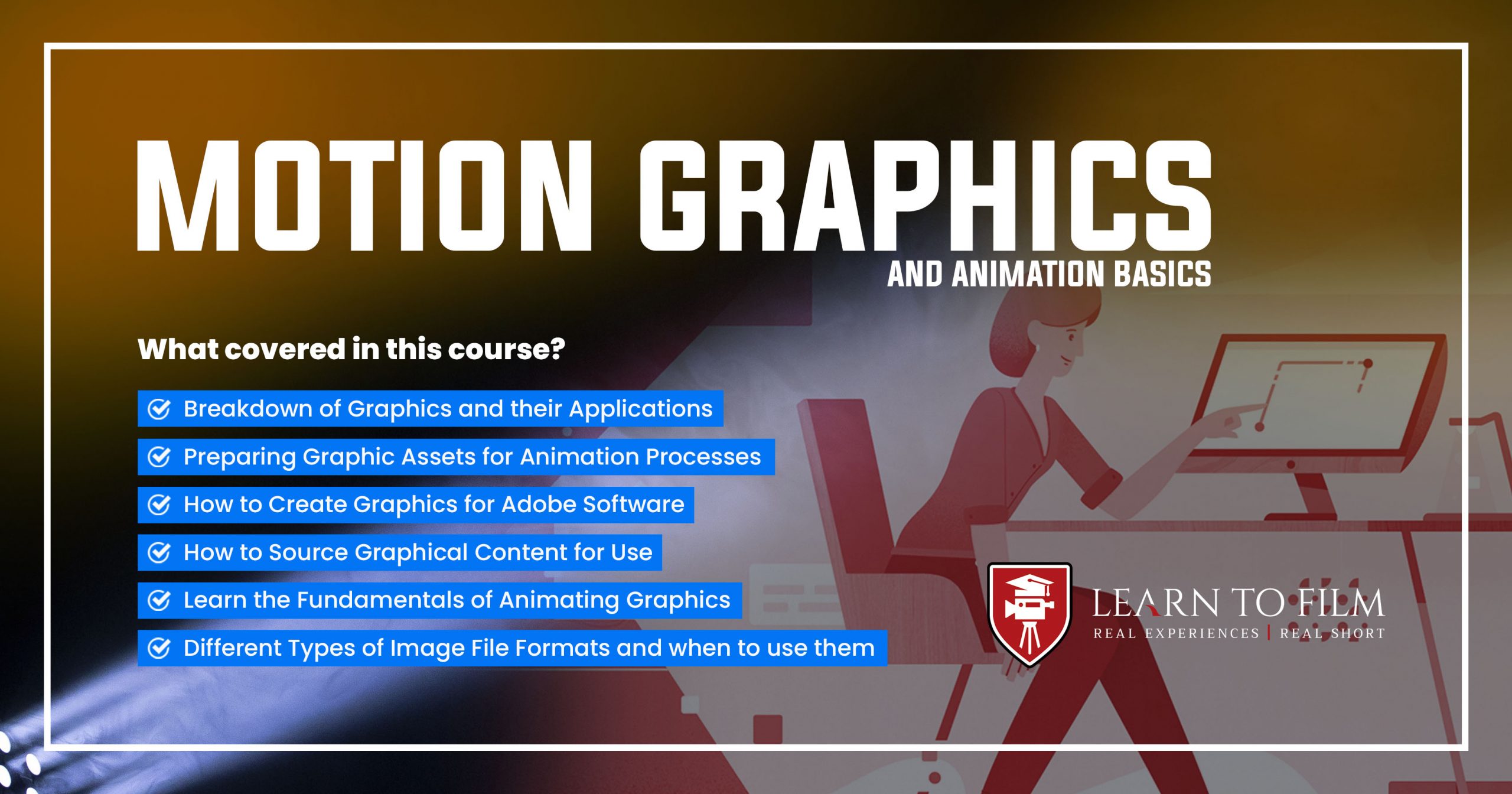 Learn how to source, prepare and animate your graphic content for your video.
What you'll learn
Breakdown of graphic types and their applications
How to correctly source graphical content for use
Learn to prepare graphic assets for animation processes
Learn the fundamentals of animating graphics
How to create graphics using Adobe software
Different types of image file formats and when to use them
Course Bonuses
12 Months access to our support forums
20% off on all hires from our camera rental partners
Practise projects to work on after your course
We'll review and comment/support your next 5 videos you create after your course
To many filmmakers, graphics and animation are mysteriously dark arts. We will take the mystery out of it and give you the skills to source, create, adjust and implement graphics. You will learn the basics of Photoshop and Illustrator and their alternatives, how graphics work and what to do with them.
After creating your graphics you will bring your freshly prepared assets in to Adobe After Effects and learn how to put them into motion. By the end of this course you should have MORE than a beginners knowledge of creating motion graphics including moving logos, lower-thirds and titles.
With an understanding of motion graphics and how to create them, you will be armed with not only a deepening curiosity for the art, but also an attractive skill to the video industry.
Remember: you can take up any one of our courses in every state across Australia. If a course near you isn't available, please fill in the "Interested in this course" form on this page and we will get in contact with you to ensure we can provide something suitable.
What to expect
We'll start this seminar style class with a welcome from Learn To Film, where we can get to know the teacher and the students.
We begin by understanding graphics and how they work within our video medium.
Learn about pixel and vector graphics and how they work.
Explore alternatives to Photoshop and Illustrator
Learn how to make basic adjustments in Photoshop and Illustrator and export your graphics.
By using an online subscription service we will learn about sourcing graphics and the licences available to you. We will also take a look at a few different platforms and review their strengths and weaknesses.
We will use Adobe Illustrator to make adjustments to the example graphics we downloaded.
Before lunch we will learn a little about Adobe After Effects and animating graphics.
Now we work on our final video! Let's start by collecting all the necessary elements we need for this video.
It's animating time! Titles and lower thirds, motion graphics and small animations – we will be manipulating and implementing them all.
The last thing to do is render our video; then it's drinks and canapes where students will receive their certificates.
Find a course near you:
Film Courses Sydney | Film Courses Brisbane | Film Courses Melbourne | Film Courses Perth | Film Courses Adelaide |
TAKE THIS COURSE

20 SEATS LEFT
Course Curriculum
Induction / Welcome Details

00:30:00

Graphics in Video and Graphic Software – MOD0020 Details

00:45:00

Graphics in Video & Graphic Software – MOD0020 quiz

00:05:00

Sourcing Graphic Assets – MOD0021 Details

00:30:00

Sourcing Graphic Assets – MOD0021 quiz

00:05:00

Preparing Graphic Assets for Animation – MOD0022 Details

01:00:00

Preparing Graphic Assets for Animation – MOD0022 quiz

00:05:00

Graphics in Video [Demo] Details

00:10:00

Animating Graphics – MOD0023 Details

02:00:00

Lunch / Break Details

00:45:00

Motion Graphics Practical – MOD0018 Details

03:30:00

Details

00:00
Course Reviews
5 stars

0

4 stars

0

3 stars

0

2 stars

0

1 stars

0
No Reviews found for this course.