Pre Production and Audio
0( 0 REVIEWS )
16 STUDENTS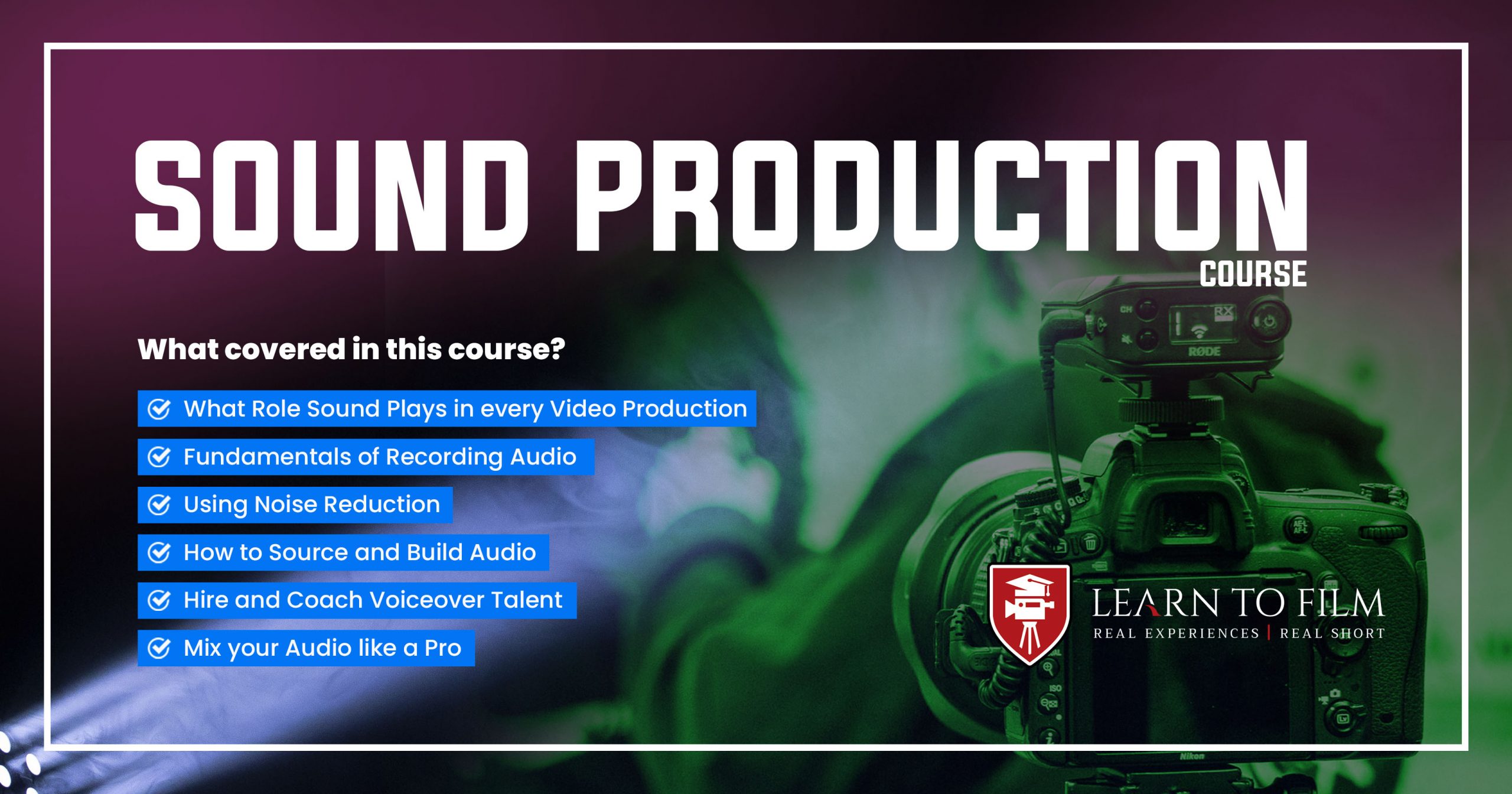 An information packed day that will introduce students to some of the lingo and crew roles of the industry and how to prepare for a shoot.
Learn some of the fundamentals of audio as well as how to use a boom or lapel mic.
We show you how to work with a music composer and what's possible when it comes to cleaning audio. Plus, we introduce you to bit rates and audio file formats and how to source music and sound effect assets for your video project.
What you'll learn
What role sound plays in every video production
How to source audio to build your video
Learn the fundamentals of recording audio
Hire & coach voiceover talent
Learn about noise reduction
Mix your audio like a pro
Course Bonuses
12 Months access to our support forums
20% off on all hires from our camera rental partners
Practise footage to edit after your course
Camera Kit List – Everything you'll need to get started
A well known fact in the video and film industries is that audio is THE most important element to lending credibility and quality to a product.
In a single day you will learn all about audio for video: capturing sound, sourcing music and sound fx, and working with different mics and recorders.
You will hear from a professional music composer what to expect when working with music in Movies, Television and Games. You will also gain the skills to delve into related industries including the finer points of recording voice-overs, ADR and even a little on music production.
After this course you will have a well-rounded knowledge of equipment operating, post-recording processing and basic legal knowledge.
This is your stepping stone to a professional career in audio.
Remember: you can take up any one of our courses in every state across Australia. If a course near you isn't available, please fill in the "Interested in this course" form on this page and we will get in contact with you to ensure we can provide something suitable.
What to expect
Welcome to Learn To Film. Let's get to know each other, teachers and students.
After a demonstration of how important audio is in video production, we will learn all about sourcing music and SFX from subscription services.
Next we will brief over the fundamentals of sound recording.
Students will each choose a video to complete the audio for. Each choice will require emphasis on different skills.
After learning about acquiring voice talent we will learn about the hardware and software necessary to record people in the studio, including tips on how to work with talent and improve your own performance.
Delve into audio editing by practicing along with the teacher.
Now it's time to get hands on with recording equipment. Set up and use a boom mic, and learn to correctly apply a lapel mic.
Before lunch we will get to know just how far technology has come with noise reduction.
Hear from a professional music composer about what the job entails, what to expect from a composer and how to communicate with them.
Find out a little about how money works in the music world and how to fill out a cue sheet.
Now we get into mixing, learning to strike a nice balance between music, dialogue and SFX.
With all of our newfound knowledge we can start our final videos. Under teacher supervision you will be guided through the completion of your project.
When projects are due, we will learn about exporting and file formats. This is when we deliver the final audio for our videos.
Students can enjoy and celebrate with drinks and canapes. All graduating students will be presented their certificate.
Find a course near you:
Film Courses Sydney | Film Courses Brisbane | Film Courses Melbourne | Film Courses Perth | Film Courses Adelaide |
TAKE THIS COURSE

20 SEATS LEFT
Course Curriculum
Induction / Welcome Details

00:30:00

The Lingo of Video Production – MOD0002 Details

00:15:00

Corporate Video Types – MOD0013 Details

00:25:00

Roles in the Video & Film Industry – MOD0078 Details

00:30:00

Planning Your Project – MOD0003 Details

00:45:00

The importance of sound for video – MOD0024 Details

00:20:00

The Importance of Sound for Video – MOD0024 quiz

00:05:00

Fundamentals of recording sound – MOD0026 Details

00:10:00

Fundamental of Recording Sound – MOD0026 quiz

00:05:00

Sourcing Appropriate Sound FX and Music – MOD0025 Details

00:25:00

Sourcing Appropriate Sound FX & Music – MOD0025 quiz

00:05:00

Working with Voice Overs – MOD0027 Details

01:00:00

Working With Voiceovers – MOD0027 quiz

00:05:00

Using a boom Microphone – MOD0028 Details

00:35:00

Using a Boom Microphone – MOD0028 quiz

00:05:00

Using a lapel Microphone – MOD0029 Details

00:35:00

Using a Lapel Microphone – MOD0029 quiz

00:05:00

Cleaning Audio: What is possible? – MOD0030 Details

00:25:00

Cleaning Audio: What is Possible – MOD0030 quiz

00:05:00

Lunch / Break Details

00:45:00

Working with a Music Composer – MOD0031 Details

00:45:00

Working with a Music Composer – MOD0031 quiz

00:05:00

Bit Rates, Formats & Exporting Audio – MOD0033 Details

00:15:00

Bitrates, Formats & Exporting Audio – MOD0033 quiz

00:05:00

Work Audio in Post – MOD0061 Details

02:30:00

Details

00:00
Course Reviews
5 stars

0

4 stars

0

3 stars

0

2 stars

0

1 stars

0
No Reviews found for this course.