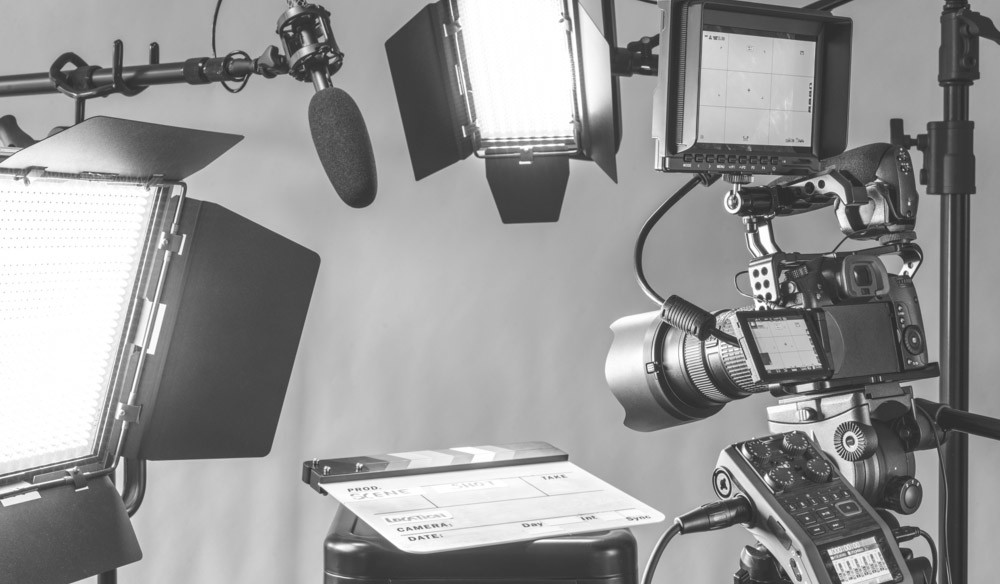 So you've graduated from film school or you've completed your film production courses, and now you're looking at getting serious about becoming a videographer. That means you need to invest is high quality, durable film production gear.
For us here at Learn to Film, camera equipment are not just tools, they're an investment. Having the right gear will help you capture critical moments in the best possible way, making editing more efficient and easier. Here are our 5 most important pieces of camera gear any videographer should invest in when starting out.
Camera and Lens
Starting off in video production now is easier and much more affordable than ever before. Why? Because consumer cameras available at many camera stores work extremely well, when coupled with the right experience behind the camera. A great choice of camera that's affordable yet versatile and still produces high quality results is the Sony A6500. This camera used with the very popular sigma 18-35mm 1.8mm lens is a great all rounder for anything you desire to shoot.
Tripod
You want to remember how you'll mostly use your tripod. Are you travelling a lot? What environments are you using it on (sand? Dirt? Uneven and non-sild terrain?)? Your video shoot could see you filming in all kinds of terrains, so a strong, lite weight tripod with a fluid head will always be a winner.
You'll want to invest well in your tripod, as this is the only item you'll probably keep the longest regardless of which camera you upgrade to in the future. If you're purely focused on shooting video only, then an adjustable ball fluid head tripod is your best choice. ​Manfrotto has built a reputation of being the most durable and reliable tripods on the market.
Always buy a tripod that can support more weight than your camera. A good rule of thumb is, buy a tripod than can support three times the weight of your camera and lens setup, at least.
Audio Equipment
You have two choices in terms of audio equipment readily available on the market nowadays – wired or wireless. While would be great to have on hand, your best bet is to buy a wireless lapel kit. This is purely because you won't have to worry about wires getting tangled or becoming a trip hazard. The Rode ​RODELink filmmakers kit is a great option value for money.
On top of the lapel kit, you'll need something to record the sound. Although you will require an audio recording device such as the Zoom H4N, you could get away with not needing one when starting out as you'll be able to plug the Rode filmmaker kit directly into your camera for audio input. You may not have all the functionality or control you'd like over your audio if you do this.
If you do require complete control over the audio recording, the Tascam DR60 is a great professional unit that will allow you to plug in your lapel for monitoring and audio control, then send out the audio signal to your camera in order to relieve you from having to sync your audio files in post production. This way your clean audio will be synchronized with your video footage file accordingly.
3 Point Lighting
We can't stress on how important your lighting is, even if you're filming outdoors. If you want your content to have any sort of real production value, then you can't go wrong with having a proper 3 point lighting setup.
Lite weight LED panels are widely available for purchase anywhere online. You'll mainly want a kit that comes with tripods for each of the three lights a carry case and most importantly don't forget to buy at least two batteries for each of your lights. So if your new lights take 1 battery each then you'll need 6 batteries in total.
Although this isn't a training guide or manual to setup or usage for lighting, it's merely a buying guide to ensure you're well equipped. If you required training, we offer short course workshops every month to up-skill you where you may need it.
Storage Cases
You'll need something to store all your newly purchased camera equipment. Although your professional lighting and fluid head tripod will not fit into ​your camera case, you could always buy much smaller lights and tripods that could easily fit into a backpack for portability. Just remember you might not get the shot you need with smaller, less powerful equipment.
A 1510 Pelican case is a good sized case that you can customise to fit your camera, lens, batteries and audio gear in. You can pluck out the foam to fit all your gear snug to ensure its safe whilst traveling. These cases also conveniently are carry-on friendly, and waterproof for those outdoor shoots.
In total, you'll have three cases for all your gear:
1. Camera, audio & lens storage case
2. Tripod bag (Usually comes with the tripod)
3. Lighting case (ensure to buy a kit that provides the cases with it)
Once you're kitted out, you're ready to take your video production anywhere, no matter the terrain or location. Still not quite sure what you need? Contact Learn to Film, we're happy to answer and advise on camera gear that you might need, and we just might have a course that will help you get the most out of your newly purchased camera gear!